UHB double sided tape is used for bonding or mounting materials and is also suitable for bonding in difficult conditions. It is made of a durable acrylic foam, and is coated with adhesive sensitive to touch on both sides, creating a strong bond and it achieves full grip in about 3 days.
Use
For bonding / mounting, even in harsh conditions.
Examples of use
On walls, the floor, to merge items …
Suitable surfaces
For most smooth surfaces such as wood, stone, ceramic, marble, granite, PVC, clinker, concrete …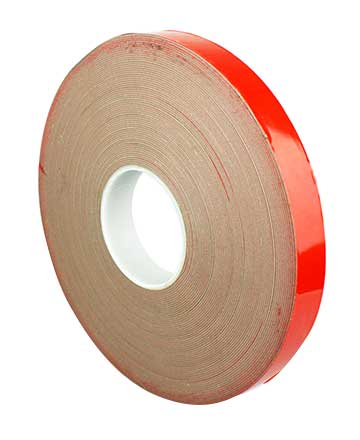 Depending on the amount of the order, can the tape be cut to any width roll.
Proven we can state that the tape is for bonding in demanding conditions a major competitor to tried and tested methods, and creates a bond that has the following advantages:
Water resistance,
excellent sealing capability,
noise reduction,
fast installation,
vibration suppression,
complete design,
single line connection.
Besides providing faster workflow as mechanical fasteners, and more than excellent replaces rivets, spot welds, screws, … The tape  is made of durable acrylic foam which is highly elastic in nature. This gives the foam mitigating and relaxing properties and prevents errors over time, as happens at the installation, which requires maintenance, thereby increasing costs. Unlike mechanical parts that can easily rust, the durability of UHB double sided tape is further increased, because it is resistant to solvents, moisture, UV and aging.