Standard Marking Tape Tapefor
Strong and durable PVC with a high levels of adhesion. Because it is not stretchable, it's wear resistant and can withstand a man as well as heavy machinery. Standard marking tapes are self-adhesive. They are excellent for marking the floors in courts, factories, warehouses …
Use
For marking in warehouses, offices, shops …
Examples of use
Warehouses, production halls, entrances, offices …
Suitable surfaces
For most surfaces such as wood, stone, ceramic, marble, granite, PVC, clinker …
Colours
Black, red, yellow, blue, white, green, black/yellow and red/white.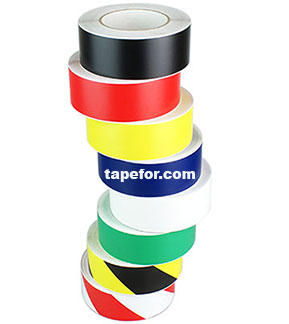 Depending on order quantity, we can provide the Standard marking tape anti in a wide range of sizes, shapes and colours ( matching Pantone or RAL reference ).
How can I see the Tape?
We enjoy sending samples, because we want you to see this unique product firsthand. Contact us for more information on samples.
The advantages of our professional standard marking tape are:
easy installation,
no drying – an area is marked as soon as you install it,
a wide selection of colors,
thickness of 160μm.