Glow in the Dark Floor Signs
You can mark out emergency or fire exits. Signs are 400mm x 400mm with rounded corners (for increased durability). To prevent damage to the print all signs are laminated. Permanent adhesive provides excellent adhesion to most surfaces. During the day they are a vivid green and white display but as soon as the lighting is diminished they become black with glowing white infills. Our glow in the dark floor signs are much more cost-effective than powered signs. They can be installed on almost any flat surface.
Use
For different marking.
Examples of use
For marking exits, entrances, as a signpost …
Suitable surfaces
For most smooth surfaces such as wood, stone, ceramic, marble, granite, PVC, clinker, concrete …
About luminance
luminance of 0,32mcd/m² is the level at which light can no longer be seen by the human eye.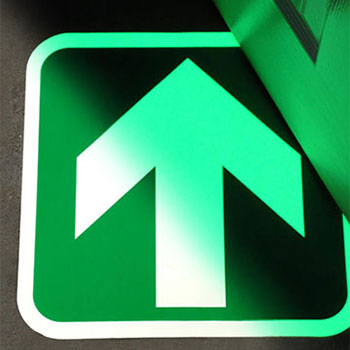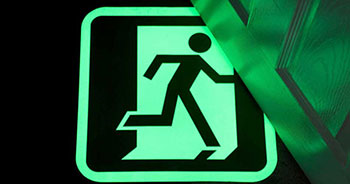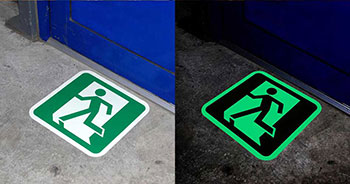 Glow in the Dark Floor Signs can be installed within minutes and immediately walked on after. Glow in the Dark Floor Signs offer exceptional value for money being a very cost-effective product. Glow in the Dark Floor Signs provide long-term use. The laminated surface in combination with high quality adhesive ensures that you receive a product designed for industrial use. We can ensure that the price is much lower than even a basic vinyl floor marker that is not photoluminescent or even laminated.
On request, we can provide various shapes, text, etc, please do contact us regarding minimum quantities.