Glow in the dark marking tape Hazard
Glow in the dark marking tape Hazard is the next step in the development of our glow in the dark standard tape. Glow in the dark tape Hazard is self-adhesive like the rest of the tapes. A small drawback of the conventional glow in the dark tape is that the plain color is not most vivid during the day. During daylight it is a conventional mild green colour. With the modification of creating black chevrons running at 45° angles over the entire length of the material it then effectively creates a much more visible product that is far more noticeable. During the artificial or natural lighting Glow in the dark marking tape Hazard has a green shade, but when the lights go out it glows white.The black chevron do not glow and remain the same colour in any lighting conditions. Glow in the dark hazard marking tape is perfect for use on stairways, paths, access areas, exits …
Use
For internal and external use.
Examples of use
On the stairs, terraces, entrances, hallways, offices, exits …
Suitable surfaces
For most surfaces such as wood, stone, ceramic, marble, granite, PVC, clinker, concrete …

Temperature range
From -5°C to +50°C.
About luminance
luminance of 0.32mcd/m² is the level at which light can no longer be seen by the human eye.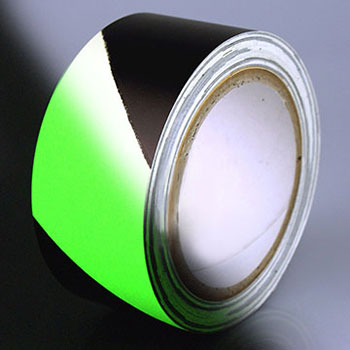 Depending on order quantity, we can provide glow in the dark hazard marking tape in a wide range of sizes and shapes.
How can I see the Tape?
We enjoy sending samples, because we want you to see this unique product firsthand. Contact us for more information on samples.
Photoluminescent glow in the dark marking tape hazard  is very reasonably priced product that offers great value for money. Its self-adhesive base sticks well to almost any surface and enables long-term use (several years).
Maximum roll width is 585mm, most of the rolls iare 10m long. We can deliver rolls of various lengths and widths. Variety of forms are also available to you.
For more information or orders please contact us by phone or e-mail.