Reflective tape is self adhesive and can be used wherever there is a need for good visibility. Therefore, it is most useful in dark places or where visibility is getting worse. When illuminated it reflects light and gives an indication on the potential hazards on the road.
Use
To increase the visibility.
Examples of use
Working machines, bollards, barriers, trucks, vans …
Suitable surfaces
For most smooth surfaces such as wood, stone, ceramic, marble, granite, PVC, clinker, metal …
Colours
Yellow, white, red, black/yellow and red/white.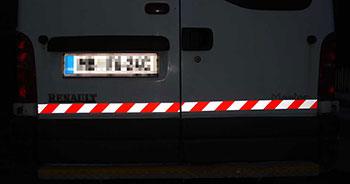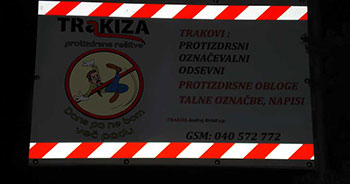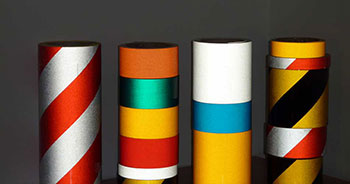 Depending on the order amount the tape can be cut into any roll width and any form. On request we can provide our Reflective tape to any RAL or Pantone reference.
How can I see the Tape?
We enjoy sending samples, because we want you to see this unique product firsthand. Contact us for more information on samples.
In case of poor visibility, eg at night, you can with the help of our reflective tape mark the way to the home yard and thus ensure greater security. For better visibility and safety on the road.
Reflective tape is coated with a layer of permanent adhesive that provides a long adhesion to the surface. The tape can also be used on working machines, bollards, barriers, trucks, vans …