Extremely Coarse Anti Slip Tape
Extremely coarse anti slip tape with special safety grip is unique. It is the most durable and most abrasive anti slip tape in the world. It is designed for use in heavy industrial environments. It also copes perfectly with mud, snow or ice.
Use
For internal and external use
Examples of use
On stairs, agricultural and construction machines, in production, lorries, tractors, skateboards, fitness equipment, …
Suitable surfaces
For most surfaces such as wood, stone, ceramic, marble, granite, PVC, clinker …

Temperature range
Od – 30ºC do +70ºC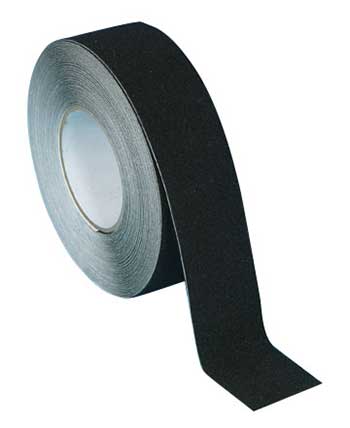 Depending on order quantity, we can provide the wide range of sizes and shapes.
How can I see the Tape?
We enjoy sending samples, because we want you to see this unique product firsthand. Contact us for more information on samples.
The most durable and coarsest in the world
It contains very large granules of aluminium oxide. Due to the size of the granules that are difficult to fill with dust, snow or ice, the Extremely coarse anti slip tape works brilliantly in dusty, snowy or icy areas. Because of the weight of the granules the standard carrier film is not suitable. Instead, it uses a stronger carrier, which allows good adhesion of heavy abrasive granules and increases the durability of the tape.
Holds on, where others fail   
The bottom side of the tape is coated with a strong HG adhesive, which adheres perfectly even on the most problematic areas. It is also suitable for low energy surfaces where other adhesives have failed.
Effective also in the dust, mud, snow and ice
Anti slip tape with special safety grip copes perfectly with difficult conditions and daily use. It is an excellent anti-slip solution for areas exposed to mud, clay and even snow and ice. Deeper profile allows the water to drain, so it does not get filled with ice easily.
Different lengths, widths and shapes
We can offer you different shapes of anti slip tapes and covers. For example in a form of boots that can lead your customers to the desired area.
Temperature range and coefficient of friction
The temperature range of our Extremely coarse anti-slip tape is -30º C to + 70º C. The tape withstands low winter temperatures. Extremely coarse anti slip tape is very durable and has excellent anti slip properties that go beyond all safety standards. It can be installed on almost all surfaces.