Rail blister tactile paving
Rail blister tactile paving is used to warn blind and visually impaired people that they are approaching to the edge (end) of the platform. The surface colour of the tactile paving should be any except red. We must be careful only to the contrast between the color of the tactile paving and the surrounding substrate area that has to be good enough to provide effective support to the visually impaired.
Use
For warning of the end of the platform.
Examples of use
Railway Stations.
Suitable surfaces
Concrete, asphalt, steel, wood, ceramics …
Colours
Buff, yellow, gray and charcoal.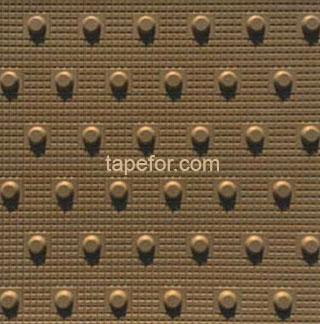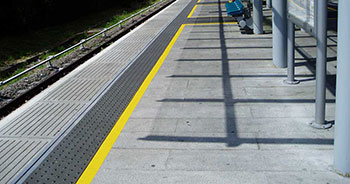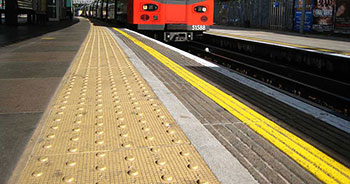 Tests:
Rail Blister Tactiles undergo stringent quality control to ensure consistent color and thickness across the surface. Our tactiles far outnumber the anti slip standards. Since the safety of pedestrians is crucial, the tactiles provide highest level of anti-slip protection. In addition to manufacturer testing there are number of other independent tests carried out for further clarification of anti-slip protection.
Approved Application:
For the correct application of Tactiles, use only approved applicators. The system installed according to our guidelines prevents potential expensive repairs and provides a long-lasting system.