Glow line anti slip tape is the most cost-effective photoluminescent anti slip material. Photoluminescent powders and pastes are very expensive. Individual varieties of higher grades cost more than gold. We offer an inexpensive alternative. Glow line anti slip tape is a brilliant product. It consists of our Glow in the dark marking tape (middle line) and black standard anti slip tape. Since the thinner line of glow in the dark marking tape is used this lowers production costs as less of the precious photoluminescent product is used. The center glow in the dark line is 10mm wide, the width of the black standard anti slip tape on both sides of the illuminating line is 20mm. The overall width of the tape is 50mm (popular width). Using two contrasting colors creates a very visible effect, perfect for highlighting. The tape is self-adhesive. We can also offer other widths and tape formats, but a certain amount of order is required.
Use
For internal and external use.
Examples of use
On stairs, terraces, entrances, hallways, offices, exits …
Suitable surfaces
For most surfaces such as wood, stone, ceramic, marble, granite, PVC, clinker, concrete …

Temperature range
From -30°C to +70°C.
About luminance
luminance of 0,32mcd/m² is the level at which light can no longer be seen by the human eye.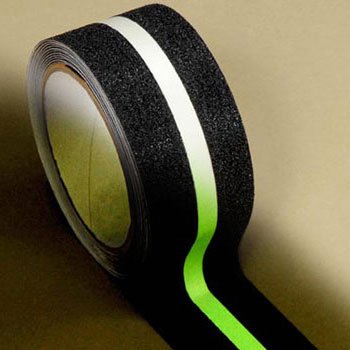 Depending on the order amount the Glow line anti slip tape can be cut into any roll width and any form.
How can I see the Tape?
We enjoy sending samples, because we want you to see this unique product firsthand. Contact us for more information on samples.
The use of our black standard anti slip tape ensures superior levels of grip. The value of the coefficient of friction far exceeds all current or planned regulations.
One of the advantages of the Glow line anti slip product in comparison with our Glow in the dark anti slip tape is that the Glow line does not look as dirty. Glow in the dark anti slip tape is soft yellow colour, which can quickly look dirty. All abrasive materials easily attract dirt, dust, contaminants, etc. One of the reasons why, black anti slip tape is so popular is that it easily hides dirt. Lighter shades are more sensitive and quickly look dirty. Therefore, the majority of anti slip tapes and mats in buildings are black.