Blister tactile paving is used to alert blind and visually impaired people to danger on the road (stairs, obstacles, changes of direction, the pedestrian crossing, end the railway platform …). Parallel blister pattern and the layout of the tile allows wheelchair users a smooth transition. Hollowed matrix on our Blister tactile paving tiles offers a better grip, which is especially recommended for sloped areas.
Use
To warn blind and visually impaired to danger.
Examples of use
Before stairs, at pedestrian crossing points, the end of the platform, warning of a change of direction …
Suitable surfaces
Concrete, asphalt, steel, wood, ceramics …
Colours
Buff, yellow, gray and charcoal.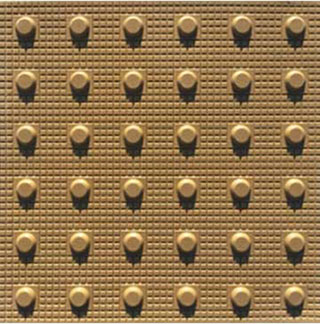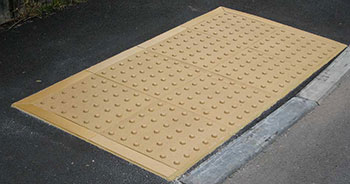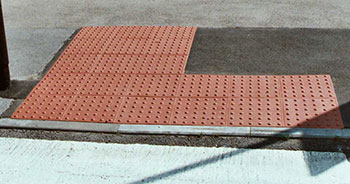 Tests:
Blister Tactiles undergo stringent quality control to ensure consistent color and thickness across the surface. Our tactiles far outnumber the anti slip standards. Since the safety of pedestrians is crucial, the tactiles provide highest level of anti-slip protection. In addition to manufacturer testing there are number of other independent tests carried out for further clarification of anti-slip protection.
Controlled and Uncontrolled Crossings – differences
For any Uncontrolled Crossings the most commonly used colour is Buff. If the contrast between the tactile and the substrate is sufficient, it is also possible to use other colours (other than Red). For all controlled crossings Red colour is used. In case that the surrounding substrate is also Red it is necessary to install at least 150mm wide contrasting border around the tactiles.
Approved Application:
Correct Application is Key. To ensure proper installation of the system, which lasts as long as possible, we are available for further clarification.