Glow in the Dark Anti Slip Tape
Glow in the Dark Anti Slip Tape appeared for the first time on the market in 1998. Being an innovation without comparisons, we were convinced that there will be no great interest for the product. But we were wrong. Glow in the dark anti slip tape became very popular. To ensure high visibility and effectiveness of photoluminescent anti slip tape it possesses two separate levels of photoluminescent coating. Glow in the dark anti slip tape is self-adhesive just like our standard anti-slip tape.
Use
For internal and external use.
Examples of use
On stairs, terraces, entrances, hallways, offices, exits …
Suitable surfaces
For most surfaces such as wood, stone, ceramic, marble, granite, PVC, clinker, concrete …

Temperature range
From -30°C to +70°C.
About luminance
luminance of 0.32mcd/m² is the level at which light can no longer be seen by the human eye.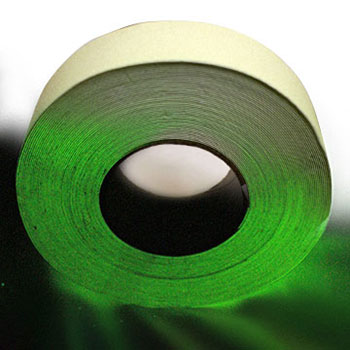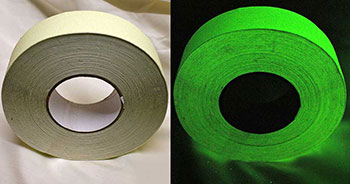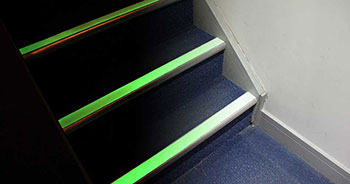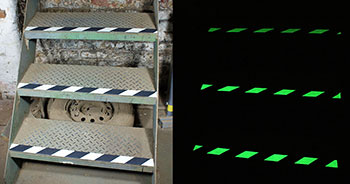 Depending on order quantity, we can provide glow in the dark anti slip tape in a wide range of sizes and shapes.
How can I see the Tape?
We enjoy sending samples, because we want you to see this unique product firsthand. Contact us for more information on samples.
Glow in the dark anti slip tape is during daylight a conventional mild green colour. In the dark or when the lights go out, it emits a bright white light. Photoluminescent anti-slip tape can be charged with natural or incandescent light. The duration of light emission varies and depends on the amount of light received. Usually it is released over a period of several hours. Our photoluminescent material does not contain radioactive particles, so it can be used in many environments. Colors to choose from are plain or hazard chevrons (yellow black).
Perfect for highlighting dangerous areas, especially those that are prone to power outs.
The grit surface on our glow in the dark anti slip tape is the industry leading mineral coating. The level of grip is is far in excess of any existing or proposed anti slip legislation and requirement (in Europe and the USA, UK and Australia). Deep grits help to prevent clogging by dirt or dust, which is often present in industrial applications. Materials are tested according to DIN, ASTM and Pendulum criteria. Certificates are available by e-mail.
Glow in the dark anti slip tape is available in rolls or in a variety of forms. Standard roll length is 18,3m, but any length between 3 to 100m is possible. You can choose between any widths of rolls. Custom form can be any size.