PermaSafety Smooth floor marking tape has all the same benefits as our standard PermaSafety material. But the upper surface is not embossed. The surface has been left completely smooth. This makes it easier to clean and gives a more aesthetic finish. A completely smooth surface suits the environment even better.
Use
For internal and external use.
Examples of use
SWarehouses, production halls, entrances, offices …
Suitable surfaces
For most surfaces such as wood, stone, ceramic, marble, granite, PVC, clinker …

Temperature range
From -30°C to +70°C.
Colours
White, yellow, and black/yellow.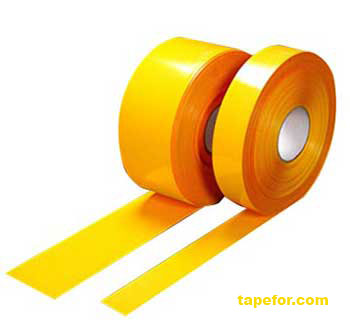 Depending on a demand we can extended the choice of colours for PermaSafety Smooth to all the standard colours and different dimensions. If you have a special request, please contact us.
How can I see the Tape?
We enjoy sending samples, because we want you to see this unique product firsthand. Contact us for more information on samples.
PermaSafety Smooth floor marking tape is manufactured using the same methods as original material:
Solid, 1mm thick, Homogenous, virgin plastic
160mu of high quality modified acrylic adhesive that is coated edge-to-edge.
Chamfered Edges
PermaSafety Smooth floor marking tape can be used in areas that require very strict hygiene standards, and leave no area where bacteria can harbour. A smooth surface facilitates cleaning. The Smooth materials fit perfectly into our line marking tape range (the same colours and angles- all designed to create the perfect warehouse or factory line marking system).
PermaSafety has revolutionised the use of heavy-duty aisle marking for warehouses and factories. Not that long ago only paint or resin could be used ( messy, not durable, expensive, area needs to be closed during and after application).
PermaSafety Smooth floor marking tapes sleek finish complements many areas that maintain a high presentation standard.
We currently offer smooth line marking tape in 50mmx30m rolls, in white, yellow and black/yellow hazard. Depending on use and volumes other colours and widths are possible. Please contact us, for more informations.